"I couldn't believe how quickly it allowed me to bounce back...after each session I feel fresh and ready for another day of training!"
- Petr Vabrousek, Ironman Champion
Recover FASTER and feel FRESHER.
SLS3 Compression Boots offer a premium pressure to help your muscles recover faster and reduce fatigue.
With 6 different programs, isolation mode and adjustable pressure settings, you'll experience a more custom recovery than other compression systems on the market. 
& Free Delivery in the USA
100% Risk-Free Money Back Guarantee | Same Day Shipping

Recover FASTER and feel FRESHER.
SLS3 Compression Boots offer a premium pressure to help your muscles recover faster and reduce fatigue.
With 6 different programs, isolation mode and adjustable pressure settings, you'll experience a more custom recovery than other compression systems on the market.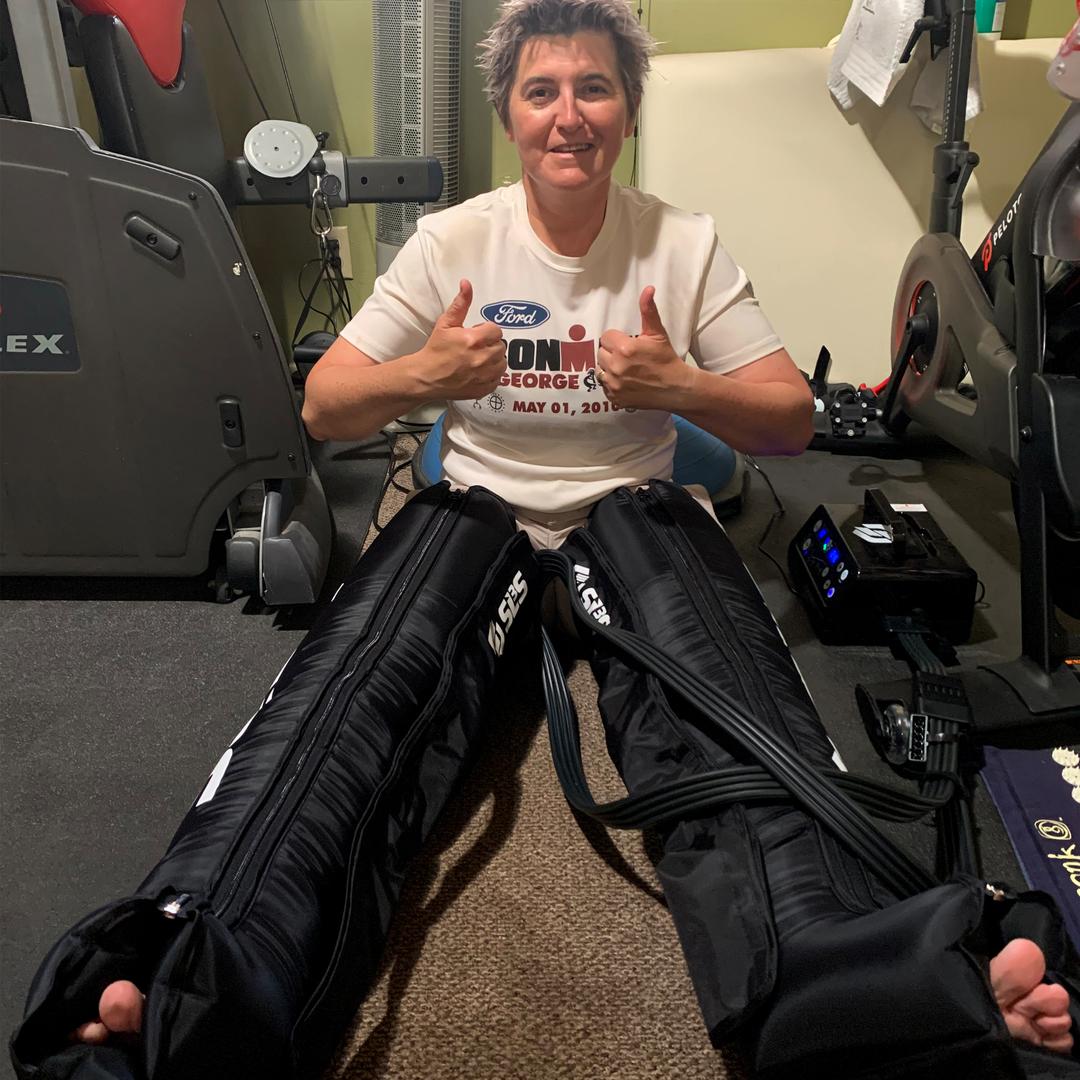 WHY SLS3 COMPRESSION BOOTS?
Premium pressure (up to 250 mmHG) - Better compression, Faster recovery.
Next Level Recovery – 6 massage programs, isolation mode, custom time settings and remote control.

 
4 Air Chamber Technology – overlapping chambers for a smooth recovery treatment.
Designed for athlete's performance and recovery based on scientific studies.



2 Years Worry-Free Guarantee - Lifetime Servicing 
60 Day Money Back Guarantee.

Not just another pair of Compression Boots for athletes.
Finally, there is a device that relieves muscle pain, decreases muscle fatigue and improves athletic performance.
For the past 16 months our team has been working around the clock to make it happen, to create something that can actually change the game.
Our recovery system is made in a facility that has more than 10 years of experience in making medical rehabilitation products. 
We are using the highest quality components from the air compressor to the sleeves as we know that there's enough average products out there and it's about time to create compression boots that deliver high quality compression at an affordable price.
These Compression Boots have everything you need and nothing you don't.
$999
★ ★ ★ ★ ★ 4.8
100% NO-RISK MONEY BACK GUARANTEE
See why athletes love these Compression Boots?
What are the benefits for athletes?

Increased blood circulation
Helps to prevent muscle soreness
Reduces swelling and inflammation
Increases training performance
Speeds up muscle recovery

How do the Compression Boots work?

We use air to create a dynamic and effective massage for your legs. 

By sequentially inflating different chambers of the boots they increase the circulation in your legs. This reduces swelling and helps recover faster. 

The improved flow of nutrient and oxygen-rich blood is what your muscles need to be able to recharge.

How do I use the Compression Boots?

The SLS3 compression boots are easy to operate.  Just sit down, put your legs into the boots, choose one of the six modes available, adjust the pressure and time settings (based on preference), press start and enjoy! 


How do Compression Boots help with injuries?

Excess fluid surrounding the injury contributes to swelling, which can reduce range of motion and slow down the healing process.

A pneumatic compression device actively pumps away these excess fluids and reduces swelling better than static compression is able to.

Active compression also optimizes lymphatic drainage, which carries cellular waste products away from the area.  

Active compression increases blood flow, which therefore increases the amount of oxygen that is delivered to the injured area.

Blood also carries the necessary nutrients for cells to go through the healing process, so the better the blood flow, the faster cells get what they need to thrive.

What is the pressure range of the Compression Boots?

The SLS3 air compression system allows you to set a wide range of pressure to your boots. From 20 to 250 mmHg. The pressure needed depends on the circumference of your legs (e.g. stronger legs normally need less pressure), personal preferences and tolerance of compression. We recommend to start with medium pressure - between 80-100 mmHg and then go higher or lower according to your comfort level. Please, note that the session should be comfortable yet strong and firm. If you feel uncomfortable at any time we recommend to lower the pressure or stop the session.


How often and how long should I use the Compression Boots?

We recommend one session of 30-40 minutes a day but you can manually set up your individual session length up to 60 minutes.

For a quick warm-up before exercise, a 10-20 minutes warm up session can be enough. Post-workout you can go as long as 50-60 minutes of relaxing compression. As long as the sessions feel comfortable, there are no restrictions on how long or how often you should use the system.

What are the contraindications?

This device is intended for use in healthy individuals.




People with the following conditions should not use the this device:




Inflammation
Heart failure
Erysipelas deep thrombophlebitis
Pulmonary edema
Acute venous thrombosis
Pulmonary embolism or edema
Severe peripheral neuropathy
Tumors
Bone fractures
Ischemic vascular disease
Unstable hypertension
Infections
Bleeding
Deep vein thrombosis
Thrombophlebitis




Please consult a physician before using this device: 




If you have a cardiac pacemaker
If you are pregnant
If you have pulmonary embolism or edema
If you feel fatigue / weak
If you have skin inflammation
If you have any (metal) implant in your body
If you have ischemic vascular disease




Always consult your physician to see if this device is safe to use for you and seek the advice of a physician or other qualified healthcare provider with any questions regarding a medical condition. If you experience any pain using this device, stop immediately and consult your healthcare provider.

What features do the Compression Boot have?

6 different programs

4 chambers (overlapping)

Isolation mode (turn specific chambers on and off)

Adjustable pressure settings (20-250mmHg)

Custom time settings (10-60 min)

Control via remote (3 feet distance range) or control unit

110V U.S. outlet with extra long power cord

2 Years Worry-Free Guarantee 

60 Day Money Back Guarantee


The SLS3  Air Compression Therapy System includes:

2 compression sleeves for your legs

control unit 

remote control

travel case

user manual

Do you offer a satisfaction guarantee?

We stand 100% behind our recovery system with a full 2-year limited warranty. And to prove our confidence in this product and its value to you, we are offering a 60-day, money-back guarantee on unused products. Please see the return page for more details.