Lucy Charles-Barclay's Triumph at the 2023 Women's Ironman World Championship in Kona
Chris Mc October 15, 2023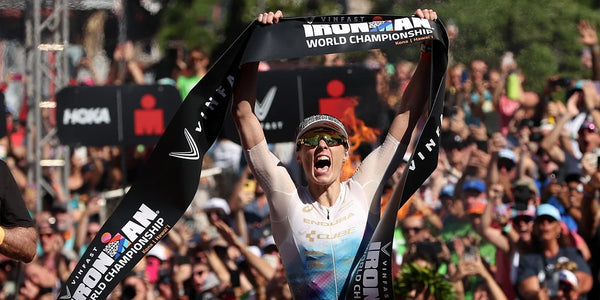 In the world of triathlon, Lucy Charles-Barclay's name has long been associated with remarkable second-place finishes at the Ironman World Championships in Kona. However, at the groundbreaking 2023 Women's Ironman World Championship, Charles-Barclay's extraordinary performance shattered her runner-up curse and made history.
Breaking the Second-Place Streak
Since turning professional in 2016, Lucy Charles-Barclay had consistently claimed second place at the Ironman World Championships, with her closest misses occurring in 2017, 2018, 2019, and 2022. But this year, the stage was set for a new chapter in her triathlon journey.
A Field of Titans
The 2023 Women's Ironman World Championship assembled an awe-inspiring lineup of athletes, which made Charles-Barclay's victory all the more impressive. Among her competitors were Anne Haug, the 2019 Ironman World Champion, Laura Philipp, the record-holder for the Ironman distance, and 50 other elite professional women. This field represented one of the most talented collections of athletes in Ironman history, with a staggering 16 women completing the race in under nine hours.
In her triumph, Lucy Charles-Barclay also joined an exclusive club, becoming the first professional triathlete since Lori Bowden (in 1999 and 2003) to win the Ironman World Championship after first achieving the title as an age-grouper.
The Challenging Swim Leg
The race kicked off with a strategic swim leg, as strong swimmers tactically positioned themselves at the start line. Taylor Knibb took an unconventional approach, starting in isolation, far from the main group.
Yet, Lucy Charles-Barclay seized control from the outset, establishing herself as the frontrunner. A determined chase group of nine, led by Lauren Brandon and Haley Chura, attempted to close the gap but couldn't match Charles-Barclay's relentless pace.
Even as the demanding swim progressed and the ocean's conditions grew more challenging, Charles-Barclay maintained her lead, exiting the water in 49:36, just over a minute off her own course record set in 2018.
The Battle on Two Wheels
Transitioning to the bike leg, Lucy Charles-Barclay remained unwavering in her quest for victory. The initial eight-woman chase pack witnessed Taylor Knibb's extraordinary ascent from seventh to second place by the 10-mile mark, maintaining an astonishing pace.
Behind them, elite cyclists like Daniela Ryf, Lisa Norden, and Laura Philipp executed calculated moves to close the gap. By mile 14, this trio had infiltrated the top 10, pulling a group of 12 riders with them, including Anne Haug.
Despite the fierce competition, Lucy Charles-Barclay continued to extend her lead, consistently outperforming her closest rivals. By mile 31, she had built a six-minute lead over her pursuers. The gap only widened as the race progressed, except for Taylor Knibb, who held her ground as the nearest challenger.
The Marathon Run and the Final Showdown
As the race entered the marathon run phase, Anne Haug and Laura Philipp set their sights on closing the gap to the leader. Charles-Barclay began the run with a comfortable stride, as did her closest rivals.
Throughout the marathon, Haug and Philipp gradually chipped away at Charles-Barclay's lead. Haug's tactical acumen propelled her into second place, while Philipp's unwavering pace kept her in contention.
Lucy Charles-Barclay, however, remained steadfast. With just two miles to go and a substantial lead, she pushed on, aiming for a run PR and the course record. Her relentless determination paid off as she crossed the finish line in 8:24:31, a moment she had tirelessly pursued.
A Dream Realized
Lucy Charles-Barclay's victory was not merely a personal accomplishment but a testament to her unwavering commitment to the sport. Reflecting on her win, she expressed gratitude for the incredible women in the race and their unwavering support.
In second place, Anne Haug set a new run course record with a 2:48:23 marathon, finishing in 8:27:33. Laura Philipp secured third place, completing the podium with an overall time of 8:32:55.
Lucy Charles-Barclay's historic triumph encapsulated the essence of the Women's Ironman World Championship in Kona. Her journey from perennial second place to becoming a champion will be remembered as a defining moment in triathlon history.
Top 10 Women's 2023 Ironman World Championship Kona Results
Lucy Charles-Barclay (GBR) - 8:24:31
Anne Haug (DEU) - 8:27:33
Laura Philipp (DEU) - 8:32:55
Taylor Knibb (USA) - 8:35:56
Daniela Ryf (CHE) - 8:40:34
Chelsea Sodaro (USA) - 8:42:25
Skye Moench (USA) - 8:43:34
Sarah True (USA) - 8:47:06
Lisa Norden (SWE) - 8:49:36
Jocelyn McCauley (USA) - 8:50:39
The 2023 Women's Ironman World Championship in Kona showcased the indomitable spirit of these athletes and the enduring pursuit of excellence in the sport of triathlon.